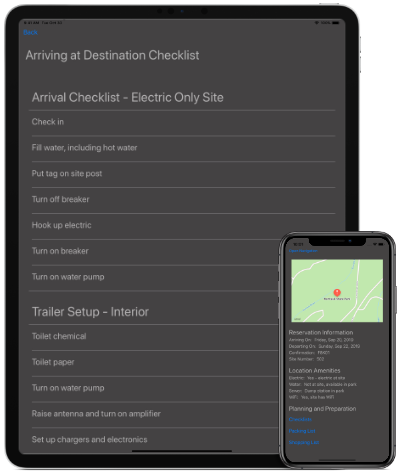 Release 1.3 (July 2020) Available Now
We are shifting to a more frequent release model after spending the past year focused on a wide view of building the business. We will strive for monthly releases, started in June of 2020 and hopefully each month after. Sometimes life happens, so we may have a month without a release (Campfango is still our side hustle) but we will be aiming for small updates each month.
The 1.3 release is very exciting - something we have waited a long time for: sync between devices. We put it to the test on our last trip and it really filled a need. There is room to improve the sync, and we will continue to do so as future releases happen, but the foundation works very well. We also shifted Campfango Today to a new model for tiles. Not only is it more efficient, but it brings some much-needed color to the app as well.
We also tested Camper on MacOS Catalyst and certified it for Macs. We anticipate releasing the MacOS version of Camper here in a couple of weeks; we have just a little work to do in order to get ready for that.
We are excited about this milestone in our plan to create the greatest RV and camping app ever!